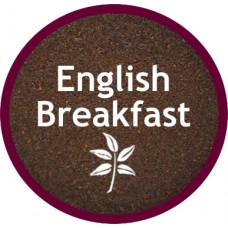 A blend of black tea leaves to create a familiar and refreshing brew perfect for early mornings.
This blend uses a variety of leaf size that hold together well as a dry leaf, but deliver their differing qualities in the cup.
Small Assam gives this tea it's strong and malty taste, with the small ceylon added to provide colour and a full bodied flavour.
It has the ability to wake and stimulate the metabolism and aid digestion of a full English.
English Breakfast is usually taken with milk, but also works well on its own.
Available in 30g, 100g, 250g and 500g bags.
Tags: English Breakfast, Black Tea